2023 Term 3 Week 10
From the Principal - Term 3, Week 10
Dear Parents and Carers,
We have come to the end of yet another busy and successful term. It is scary to reflect on how fast the year is going and that there is only one term left before our Year 6 students will graduate and embark on the next exciting chapter in their school life. It only feels like yesterday that my own children were starting primary school and next year I will have one completing VCE, one in Year 9 and one in Year 6 here at Trinity. I remember when they were babies and I would look ahead to the next exciting milestone for them to reach. My mum always said, "don't wish the years away, they will go quick enough". At the time I didn't think this was possible and in fact when they were little, some of the days felt extremely long! Now I look back and think where has the time gone. The primary school years are so precious and are something you will never get back. Cherish the opportunities to walk them into school, go on excursions or volunteer at special events or simply spend time in their classroom in the morning, as once they enter secondary school, it is a whole new world. Over the holidays I encourage you to reflect with your children about their schooling experience, focusing on the positives and their individual successes.
Have a wonderful break with your families.
Are You Ok Day
Tomorrow is R U Ok? Day. R U Ok? Day is our National Day of Action dedicated to reminding everyone that every day is the day to ask, "Are you OK?" and support those struggling with life's ups and downs. This day is particularly important as we continue to face the ongoing impacts of the past two years.
R U Ok? Day reminds us to find the time in our busy lives to check in with those around us, especially with those who might say they are doing Ok. We are encouraged to follow four simple steps.
Ask

Listen

Encourage Action

Check In
Sometimes we avoid asking people if they are Ok, for the fear of not knowing how to respond or how to help. It's not always easy to keep the conversation going when someone says they're not OK, but it could change a life. By simply listening, encouraging action and checking in, they will know that they are supported.
Before we can look out for others though, we need to look out for ourselves. If we are not in the right headspace or don't think we are the right person to have the conversation, we need to try to think of someone else in their support network who could talk to them.
If you are in a position to support someone during this challenging time, I encourage you to reach out. If you yourself need some extra support, please reach out. Together we can support each other and can get through these challenging times.
Life Line -13 11 14 / Kids Helpline – 1800 55 1800
School Disco – We raised over $1600 on the night!!
On Friday 1st September we held our school disco. This was our first disco since before covid and it was a great success. More than 360 students attended the two discos, and everyone had a great time. The students are to be congratulated on their excellent behaviour and for their enthusiasms and care for each other throughout the night. A huge thank you to Jess for her organisation of the event and the team of parents that helped her along the way. Thank you also to our wonderful DJ – Frank and his daughter Lily for very generously donating their time to entertain the students and to Mayrena for her wonderful balloon garland at not only the disco but the Father's Day breakfast. We are lucky to have so many wonderful parents within our school community who offer their time and services to support the students.
Bike Helmets
If your child rides to school, please ensure they wear a helmet and do not take it off. We have had a few concerned neighbours call us to let us know that students are not following this rule. Can you please speak to your children about the importance of being safe while riding.
Divisional Athletics
Today 17 students represented Trinity at the Divisional Athletics at Casey Fields. They all did extremely well and should be proud of their individual achievements. Thank you to all the families for driving them to the event and Mrs Woolf for supporting the students. Harley, Asmara, Lily, Zoe, Ivana and Harry have all progressed to Regionals. We wish them all the best for this next exciting stage!
Families leaving Trinity at the end of the year
We are currently experiencing a high demand for enrolments for 2024 and have a waiting list for certain levels of the school. If you know that your family circumstances are changing and you will be leaving Trinity at the end of the year, can you please inform the Office asap as your spot can be offered to someone else.
State Robotics Competition
Congratulations to Miranda, Aariel, Aaliyah A, Anaya, Aaliyah S, Simon, Joel, Kiaan, AJ, Lauren and Jasmin who proudly represented Trinity at the State Robotics Competition in Kew on Saturday 2nd September. The students performed exceptionally well, and the level of competition was amazing. They should all be very proud of their achievements. The Trinity teams finished 3rd, 6th, 7th and 30th out of 39 teams from across the state. Some teams are now preparing for the Nationals which are next term. This will be an amazing opportunity for the student and I thank Mr Dannaoui, the students and their families for their ongoing commitment. The students will share their learning and experiences at assembly tomorrow.
Save the Date - School Community Bingo Night Saturday 11th November 2023.
The fundraising committee are busy organising an exciting event – "School Bingo Night". Please see the flyer below for some starting details.
Save the date – Trinity School Carnival Sunday 17th March 2024
The next planning meeting for the 2024 School Carnival will be held TOMORROW, 14th September in the School Office at 8.45am. If you are interested in assisting with the planning of the event, we would love to have you on board. If you are interested and cannot make the meeting, please contact the school office with your expression of interest.
Season for Growth
Seasons for Growth is an innovative, evidence-based change, loss and grief education program that draws on the metaphor of the seasons to understand the experience of grief. It builds the knowledge and skills necessary to strengthen social and emotional wellbeing following significant loss by:
Exploring the impact of change and loss
Learning about effective ways to respond and adapt
We will be running our Seasons For Growth Programs for students aged between 6-12 years towards the end of this term and the beginning of Term 4. It is recommended for greatest effectiveness, that students participate in Seasons 6-12 months or more after the experience of loss. If you believe that your child will benefit from this program, please contact your child's teacher detailing why you believe your child will benefit from the program.
More information regarding this program can be found on the MacKillop Institute Website.
https://www.mackillopinstitute.org.au/programs/seasons-for-growth/children-young-people
Staffing Updates
Next Term Mrs McCarthy will be on Long Service Leave for the first three weeks of term. During her absence, existing part time staff will cover Italian where possible.
This week we have had a significant number of staff away either on leave or unwell. Where possible, all available staff and leaders have covered staff absences but at times we have still had to split classes. Thank you to the wonderful staff who have supported each other by taking on extra students, covering duties or just lending a hand where possible. We are lucky to have such a dedicated staff. Thank you also to their students for their resilience and to all families for their understanding during these challenging times.
Canteen
Next term the prices of items in the canteen will need to increase. We have done our best to keep this as low as we can but with the increase in the price of food in general, we unfortunately have no choice but to increase our prices as well. This will be reflected in CDF Pay next term. Thank you for your understanding.
Important Dates – Whole School Events Only
Friday 15 September Last day of term / Footy Day – children can wear their footy colours.
Monday 2October First Day of Term 4
Monday 6 November School Closure Day
Tuesday 7 November Melbourne Cup Holiday
Thursday 14December Year 6 Graduation
Friday 15 December Last Day of School for 2023
Friday 15 December End of Year Mass 9am and Christmas Carols 1.45pm
Please check PAM for Year level excursions and incursions.
Kind regards
Kathryn Pepper
Student Support, Term 3 Week 10
Last week we marked National Child Protection Week. The theme for Child Safety Week 2023 was: Every child, in every community, needs a fair go and a chance to grow up safe and supported.
Our Foundation - Level 4 students participated in Australia's Biggest Child Safety Lesson. Through real-world scenarios, the engaging educational videos taught the students about age-appropriate personal safety strategies to help them either give or refuse consent.
The Level 5 and 6 students participated in a presentation delivered by Victorian Police, called 'Think U Know'. The presentation encouraged critical thinking and built awareness to prevent harm, to identify safe or unsafe situations and to learn when and how to seek help.
All students from Foundation to Level 6 learnt about the importance of First Aid and what to do in the event of an emergency. There was a focus on the 7 step DRSABCD action plan, facilitated by St John's Ambulance personnel. Students were given the chance to gain age appropriate, practical skills so as to give them confidence and to empower them to act!
Below is a link for parents and carers who may like to have further conversations with children around Personal Safety.
Religion Education Term 3, Week 10
Dear Families,
We Can Make a Difference!
The students at Trinity have had an amazing time reflecting on how we can make a difference in our communities. Through reflecting upon scripture, students have explored how Jesus serves others and calls for us to live out this mission today. Students have been working cooperatively with peers and members of the parish community to ensure their actions truly impact those around them in positive ways. The grade five students have made care packages for people in the community with special needs, those struggling with finances, and to support the volunteers in the parish who help those in need. They made connections to standing in solidarity with one another, one of our Catholic Social Teaching Principles, and wrote prayers of reflection. See some of their reflections and prayers below.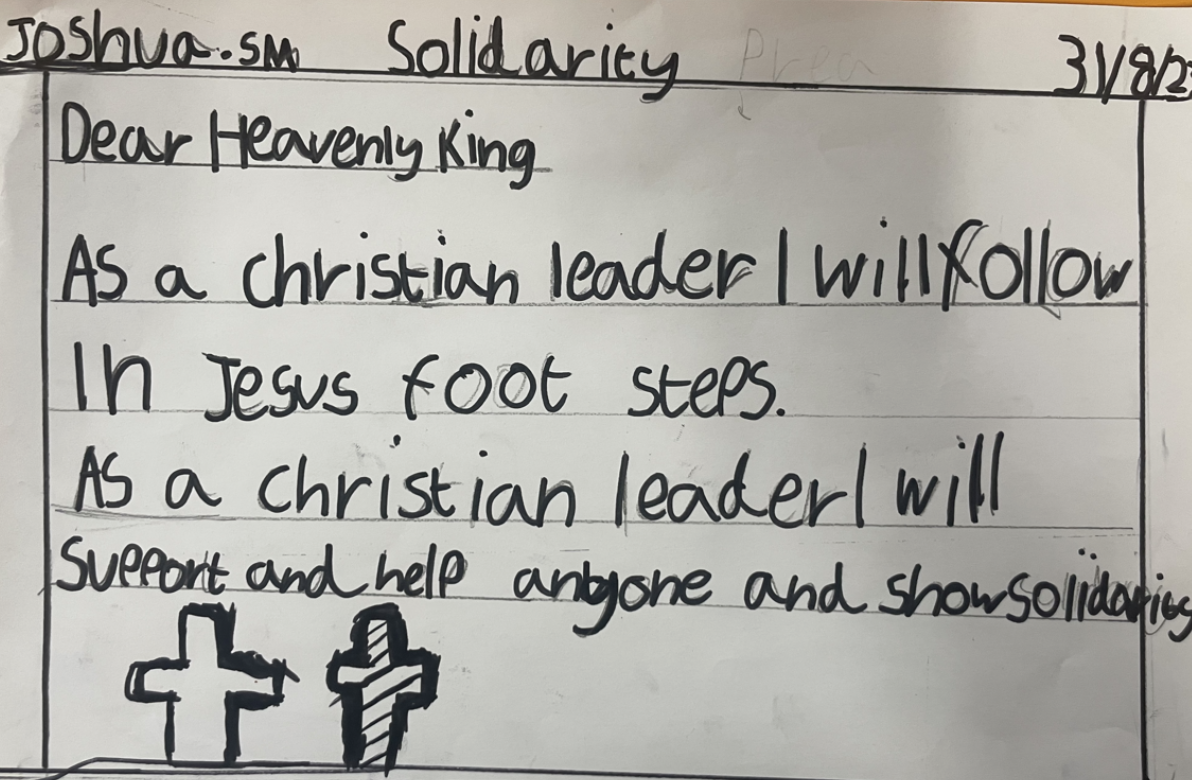 Trinity Prayer Group
We warmly invite parents and families to attend our Trinity Prayer Group beginning in Week 2 of Term 4. In the busyness of our lives it can be a real challenge to take time to be present in our lives, to take time for prayer, faith and meditation. Jesus tells us 'Do not worry about tomorrow, for tomorrow will worry about itself. Each day has enough trouble of its own' (Matthew 6:34), perhaps easier said than done! Let us take an oppurtunity to make a small change, a step towards prayerfulness, making space for God in our lives.
The Chapel will be open from 8:45 for all those interested in attending. We ask that you utilise street parking. Looking forward to seeing you all soon!
Confirmation Celebrations
Trinity wishes to extend a heartfelt congratulations to all students who will complete the Sacrament of Confirmation this week! We will continue to pray for you all and hope that the celebration with your families, Bishop Greg, and Fr Brendan is a memorable day.
Education Board Report
Physical Education, Term 3, Week 10
DISTRICT ATHLETICS - WEDNESDAY 30TH AUGUST

On Wednesday 30th August, 56 students from years 4-6 participated in the School Sport Victoria District Athletics in track and field events held at Casey Fields Regional Athletics Centre. The students competed against students from 6 schools in our local area. They all used their resilience to try their very best and represented Trinity with pride. It was great to see them encourage and support one another. 17 students placed first or second in their event/s and qualified to compete at the next level, Division Athletics, which took place today. Congratulations to the following students:
Jye - 4B (1500m), Xavier - 4C (high jump), Hannah - 5A (discus), Chanté - 5B (long jump), Harry - 5B (100m and relay), Lucas K - 5C (hurdles and relay), Xander - 5C (relay), Jameson - 6A (relay), Charlie - 6A (relay), Tom - 6B (discus), Asmara - 6B (long jump and relay), Hunter - 6B (relay), Zoe - 6B (relay), Ivana - 6B (relay), Harley - 6C (hurdles and relay), Zavier - 6C (relay), Lily - 6C (100m and relay)
DIVISION ATHLETICS - WEDNESDAY 13TH SEPTEMBER

Today, 17 students form years 4-6 participated in the School Sport Victoria Division Athletics in track and field events held at Casey Fields Regional Athletics Centre. A special mention to Lucas P for filling in at the last minute in the under 11 boys relay event. The students were blessed with beautiful weather conditions, whilst they competed against students from within the Casey South Division. Their determination, positivity and resilience helped them all to be the best they could be. They should all be proud of their effort and achievements.
Congratulations to the following students for their top three placing:
Lucas P - 5A, Harry - 5B, Lucas K - 5C and Jameson - 6A (3rd - Under 11 boys relay)
Congratulations to the following students who placed first or second and qualified to compete at the next level, Region Athletics, which will take place next term.
Harley - 6C (1st hurdles), Asmara - 6B (2nd long jump), Harry - 5B (1st 100m)
Asmara - 6B, Ivana - 6B, Zoe - 6B and Lily - 6C (2nd - Under 12 girls relay)
We wish these students all the very best.
Mrs Woolf and Mrs Cahill
Year Three Science Incursion
This term, in Science Year Three students have been learning about things around us, which we call Matter. On the 1st of September they got excited and enjoyed their incursion with Mad About Science Co. Students learned about atoms, heat energy states in the different states of matter, and how to describe and trigger each of the changes from one form to another. Dry ice was used extensively throughout the session. Sublimation (solid turning to gas) was demonstrated and then performed by the students, using small bubbles to trap the gas and allow the students to interact with it. Candle flames were used to test the gas produced by dry ice, as well as the gas produced by a chemical reaction. Finally, giant 'Boo Bubbles' were formed that the students could each hold, trapping fog and CO2 inside. It was great to see our year three students excited talking about their learning, evident in their reflection and sharing of learning in class about this activity.
Visual Art-Term 3,Week 10
The Grade One students created these lovely owl paintings based on the book 'Owl Babies' by Martin Waddell
Our Grade Three students have been working on their drawing skills and created these beautiful drawings of Koi fishing swimming
The Grade Five students have learnt about the ancient fibre art technique of Shibori tie dye and created their own version of a cushion along with creating their own wool tassles to complete the look. Well Done
AWARDS & BIRTHDAYS
CHILD SAFE STANDARDS WORKING WITH CHILDREN
Trinity has zero tolerance towards child abuse and is therefore committed to complying with the Ministerial Order No. 1359 – Implementing the Child Safe Standards – Managing the Risk of Child Abuse in Schools and School Boarding Premises. All parents/guardians wishing to help in the classroom, canteen or attend excursions MUST have completed the PARENT HELPER WORKSHOP and hold a current WORKING WITH CHILDREN CARD.
Further details are available from the school office or the Justice Department website. All parent/guardian helpers must sign in at the office before proceeding to the classrooms. Your current Working with Children card must be displayed at all times when working in the classrooms and attending excursions.
A reminder to all Parents/Carers, supervision by School Staff begins at 8.30am before school and after school only at the drop off area until 3.30pm.
ABSENCE FROM SCHOOL
In the case of illness/absence please call the school office by 8.30am or login to PAM to send a notification no later than 9.00am on the day of absence.
An SMS will be sent (daily) to Parents after 9.30am for any unexplained student absences.
If no contact can be made or no absence is reported the school may phone emergency contacts to ensure student safety.
If you are going away on holidays you must advise in writing to the Principal BEFORE you leave.
Thank you.
Trinity Car Park Etiquette
For greater safety and visibility, we are requesting that all drivers

reverse

park into the marked bays.

Thank you all who use the pedestrian crossing area. You are demonstrating to your children correct road safety practices. Once children cross the pedestrian crossing into the parking area, they, for their safety, need to be placed into vehicles promptly. The car park is

NOT

a meeting area.

The lane around the edge of the car park (closest to the oval) are for vehicles waiting to pick children up from the Pick-up Zone

ONLY.

The two parking bays closest to the office path are the

PICK-UP ZONES.

These are

NO STANDING

zones. If your children are not ready to get into your car as you pull up to the pick-up zone, you must continue on and rejoin the end of the pick-up queue.

There is

NO RIGHT TURN

when exiting the car park. All vehicles must turn left for the safety of others and to maintain traffic flow.

THE GATES CLOSE AT 8.50am. They will RE-OPEN AT 3.00pm.

The gates close for the day at 3:30pm. Occasionally they might reopen slightly later due to school activities.

The Staff Car Park is for

STAFF PARKING ONLY.

Please do not use it as a drop off/pick up for students.
Thank you for your patience and consideration of others